On the 23rd of December my sister Leah and I hosted our inaugural yin yoga & cacao co-lab creating a perfect peaceful antidote to pre-Christmas chaos.
We've always talked about having a Martini family business. Hosting was something that Leah, myself and our siblings Nicky and Michael learned from our parents. Our mum loves to be social and looks for any excuse to have a get together. Papa always takes a bit of convincing but in the end always cooks up a feast and is the soul of the party. They are in their 70's now and entertaining is still a massive part of their lives.
My friend gave me the idea for the retreat. I wanted to teach more but finding the time with a full time job and a 6 year old isn't that easy. She suggested that rather than run an extra class every week I host something extra special every now and again. Once she gave me the idea I thought about Leah and the dreams we all once shared and thought potentially we could do something.
For some reason I didn't think Leah would go for it but she jumped at it and we set a date to coincide when she was over for Christmas. Now Leah and I believe we are soul mates, we are very very close but that doesn't mean things always go swimmingly and in all honestly they didn't! We had never done anything like this before and it was a massive learning curve.
SMUDGING
As guests arrived Leah smudged their bodies with burning frankincense which if you didn't know is actually a tree resin which is considered to cleanse and protect the soul. It is also said to ease depression and promote clairvoyance.
YULETIDE YIN
The afternoon started with a festive hour and half of yin yoga and the theme was 'The Gift'. Each participant had taken an afternoon of their very busy Christmas weekend to give themselves a very special gift; the space and time to reflect on the self at a time that can be magical for some and yet potentially painful for others.
The postures focused around the heart meridian and its energetic partner the small intestine meridian. According to Daoism, explains Annie Au Yoga in her rather brilliant blog, '"..the Heart encompasses the prenatal virtues of social harmony, peace, pleasure, joy, contentment, tranquility, and boundaries. As we manifest into our human form, we acquire emotions such as nervousness, excitement, shock, anxiety, over-excitement, heartache, and mania. By eliminating excess nervousness, you can experience the energies of order, forgiveness, and peace. Your environment is then conducive for contentment, which allows self-esteem to grow. "
I don't think it matters who you are, I think everyone can do with a little help in finding peace and forgiveness and I feel so lucky to be able to share what I do know of the benefits of yin yoga and, how just by sitting in a certain way and working mindfully, we can positively affect the energy in our bodies to help us be more open and balanced.
While we practiced we looked to focus the mind using breath awareness and visualisation resulting in an extremely relaxing experience which was all the more lovely due to the warm chocolately aromas pervading from the kitchen...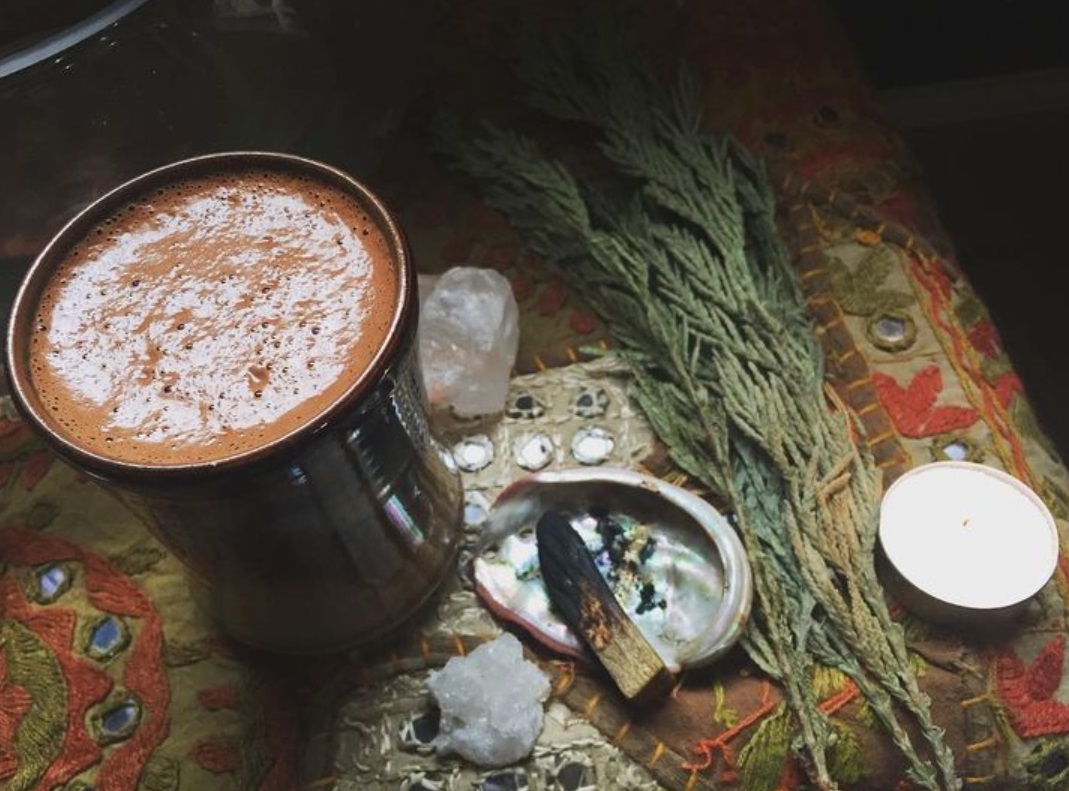 THE CACAO
After a quick break we sat down to take part in the cacao drink that Leah had been creating. The session started with a brief introduction to cacao and all its wonders. Then she asked us to go around the room and acknowledge each person with a 'namaste' greeting which literally means 'the divine in me sees the divine in you' and then give that person a hug. Now, while I am a yoga teacher and generally a very tactile person, I tend to shy away from such exercises however this was indeed rather lovely. It reminded me that in day to day life we forget to really see people and that can make us take a lot for granted. Just taking a few moments to really connect with another person felt really really good.
We then each picked one of the Osho Zen Tarot cards that Leah had placed in the middle of the circle. We went around the group individually reading each person's card to help reveal answers hidden deep within them. If you were on the course and want to reflect again on the card you chose you can read about their meanings in more detail here. And then it was time to drink the cacao that Leah had lovingly prepared. Cacao is nothing like your usual hot chocolate, in fact I prefer it as I don't really like sweet drinks but it is intense. With each sip you can feel the warm dark liquid permeate throughout the body. When we could drink no more we were invited to lie down and keep warm under our blankets while Leah guided us on a beautiful mediation journey. Cacoa is believed to help us
reconnect with our deep inner guidance and a guided meditation helps us to journey deeper within to discover more about ourselves, release negative blockages and find peace and clarity.
I personally found the experience deeply relaxing. The cacao somehow helped my mind to focus and concentrate completely on the journey Leah was taking us on. Leah's voice was clear and calm and reassuring and somewhere inside of me I was bursting with pride at how Leah led us through the entire ceremony.
The feedback we received at the end of the session was really positive with one person saying it was the ' best present she could have given herself for Christmas.'
Leah and I were delighted with the results and we're already planning our next one and how we can make it even better, so watch this space!